"After experiencing our classes and reading a book a month, people become better leaders and more balanced human beings."
—Rick Griggs, Founder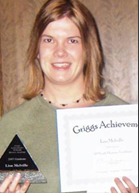 "It has given me more skills…more practice in front of the room… and leadership skills to take back."
—Lisa Melville, Legal Shield Graduate
"My new confidence also gives me the courage to network with other professionals allowing to further my professional growth… My true values were put into perspective and I have been able to act on what's important and put aside what is not."
—S. Hein

"Dramatically increased [my] presentation skills…improved communication and my balance in life."
—Connie Sanders, Front Range Community College Graduate, Fort Collins, CO