"After experiencing our classes and reading a book a month, people become better leaders and more balanced human beings."
—Rick Griggs, Founder
"I am so glad that I had the chance to attend your academy. I use what I learned from you every day."
—C. Shinsel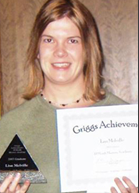 "It has given me more skills…more practice in front of the room… and leadership skills to take back."
—Lisa Melville, Legal Shield Graduate

"[The Academy] ...gave me more confidence in my approach to my profession and helped me develop good habits I can continue to master. "
—Justin Wisdo, Fort Collins Graduate, Fort Collins, CO