"After experiencing our classes and reading a book a month, people become better leaders and more balanced human beings."
—Rick Griggs, Founder
"I have learned the importance of shared values and common goals."
—Mastery Academy Graduate

"It [Academy] increased my tool set. Hopefully I'm a better person and can apply these learnings to strengthen our team." "
—John Pendleton, Hewlett-Packard Graduate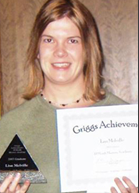 "It has given me more skills…more practice in front of the room… and leadership skills to take back."
—Lisa Melville, Legal Shield Graduate